FAMILY OWNED FARM

STAFFORDSHIRE
This family owned dairy farm are based on the edge of the Forest of Bowland which is an area of outstanding natural beauty. The farm has 300 cows but only houses 150 in the summer. The farm wanted to become less dependent on rising energy costs and wanted to increase the fertilizer value of spreading digestate.
It was decided with the assistance of Dairy Energy that a Biolectric system would be ideally suited to the needs of the farm in terms of both investment and return. A visit to Belgium to see manufacturing facility and visit some farmers who had been using the system for over 5 years helped the farmer reach a decision to install a plant and Dairy energy assisted in securing a positive planning application.
The waste heat from the system will be used to provide hot water for heating several farm houses along with providing hot water for parlour washdown.
The Biolectric plant will provide over £1,895,000 of additional income over 20 years.
Key Facts:
Slurry Only Biolectric Micro AD System
Size : 33kw (22 & 11kw CHP Engines)
Key Benefits:
Excellent financial returns with over 35% ROI (return on investment per year) Easier to handle digestate for spreading.
DID YOU KNOW THAT…
The inspiration of Biolectric originated in 2009 after seeing that there were no mass produced micro scale AD plants in Europe. After building a proof-of-concept installation in 2011, Philippe Jans – reinforced by the investor he found in the family Westerlund (Taste Invest) and together with Jan Palmaers and Jonathan Schrauwen – established Biolectric.
Since building the first micro digester the system has seen many technical innovations (some patented) that has increased reliability.
The Energy Produced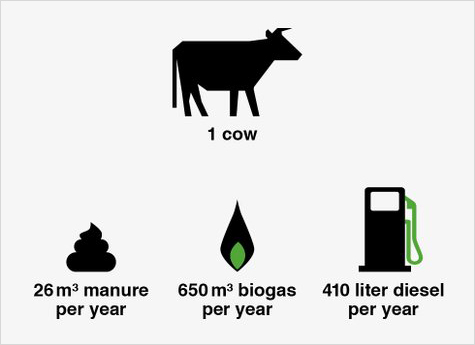 On a farm with 80 cows the yearly CH₄ emission of manure is equal to the CO₂ equivalent of 110 160 kg per year. By placing a Biolectric biogas installation this CH₄ (Methane) is converted into green energy and heat, enough to replace 110 cars off the road every year.
100+
EUROPE
INSTALLATIONS
110,160kg
ANNUALLY
CH4 EMISSIONS SAVED
110
EQUIVALENT TO CARS OFF
THE ROAD EACH YEAR