MICRO BIOGAS EXPERTS

WORKING WITH DAIRY FARMS.
Biolectric specialise in the planning, installation, commissioning, funding, service and maintenance for the lifetime of the Anaerobic Digestion (AD) Plant. The systems installed are specifically designed for dairy farms and use slurry to produce gas and electricity for use on the farm and to pass back to the grid.
Our years of experience working with alternative energy sources for farms, land owners and estates and dealing with the complexities of criteria, planning and funding routes gives our clients access to unique set of knowledge and skills.
We pride ourselves on offering the correct advice and service to our clients, we listen and recommend solutions that are right for your business.
Most of our business is gained through referrals as our customers are happy to recommend us to their associates. Biolectric are experts in Farm Scale AD and have over 260 installations worldwide. This equates to 8.8MW of installed power or over 7000 homes!
Why a Biolectric AD Biogas system?
The AD sector has been inundated with medium to large scale systems that can be a full time business in their own right and require significant diversification into arable crops for additional raw fuel. The Biolectic AD Biogas system is designed to run on dairy slurry with excellent reliability and can be matched to the farm's own energy to increase payback.
There are other micro/small scale systems on the market but they don't offer the same return on investment because they are at least 30% more expensive to purchase.
Biolectric are part of the Ackermans & Van Haaren group which employs over 22709 people and has an annual turnover of £4034 million, so your investment is in safe hands. www.avh.be/en
DID YOU KNOW THAT…
The inspiration of Biolectric originated in 2009 after seeing that there were no mass produced micro scale AD plants in Europe. After building a proof-of-concept installation in 2011, Philippe Jans – reinforced by the investor he found in the family Westerlund (Taste Invest) and together with Jan Palmaers and Jonathan Schrauwen – established Biolectric.
Since building the first micro digester the system has seen many technical innovations (some patented) that has increased reliability.
The Energy Produced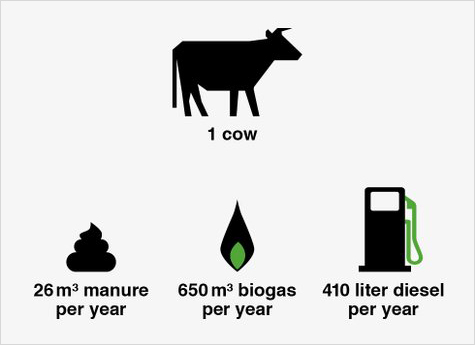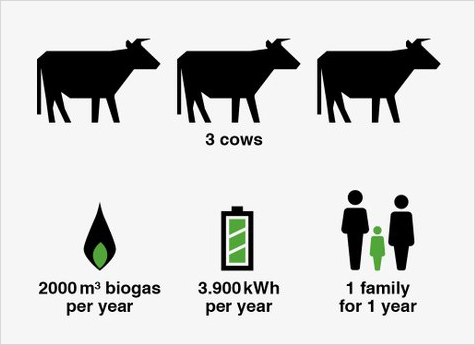 On a farm with 80 cows the yearly CH₄ emission of manure is equal to the CO₂ equivalent of 110 160 kg per year. By placing a Biolectric biogas installation this CH₄ (Methane) is converted into green energy and heat, enough to replace 110 cars off the road every year.
100+
EUROPE
INSTALLATIONS
110,160kg
ANNUALLY
CH4 EMISSIONS SAVED
110
EQUIVALENT TO CARS OFF
THE ROAD EACH YEAR